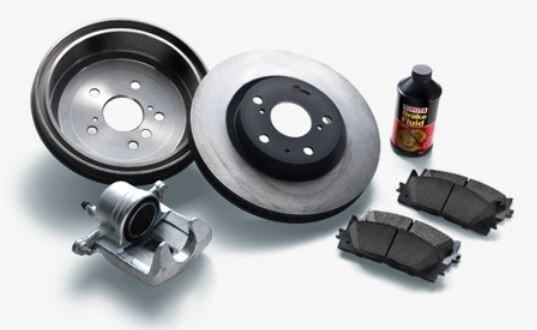 Brake Care
WE SERVICE ALL MAKES AND MODELS
We match competitor pricing.
We offer a complimentary brake inspection.
How Brakes Work:
Brakes are among the most important systems that make up your vehicle. They help to secure your safety while on the road. It takes a significant amount of energy to stop your vehicle. In most cases a vehicle traveling at 4mph has more energy than a bullet. Your brakes convert kinetic energy to heat energy in order to assist in the stopping or slowing of your vehicle. You want to ensure that they are fully functional.
At the first sign of your brakes not functioning normally or if a loud sound is occurring be sure to bring your vehicle into the dealership right away to have it checked out. Genuine Toyota brake components are available at our store and are designed specifically for Toyota vehicles. Toyota brake pads, calipers, rotors, drums, shoes, etc. help provide maximum performance and durability. We do not limit our brake services to only Toyota vehicles. We offer brake service for all makes and models of vehicles, and can assist with finding brake parts that will work best with your vehicle.
Lake Toyota has a special offer for your next brake servicing.