Bergstrom Cars is always looking for ways to give back to the community, which is how Bergstrom Cars Cares was born. Through this program, customers can make their purchase go even further. $25 from every vehicle sold at Lake Toyota, Lake Chevrolet Buick GMC, and Marketplace Ford Lincoln goes to helping with a number of different needs and requests in the surrounding region. Thank you for helping us help others!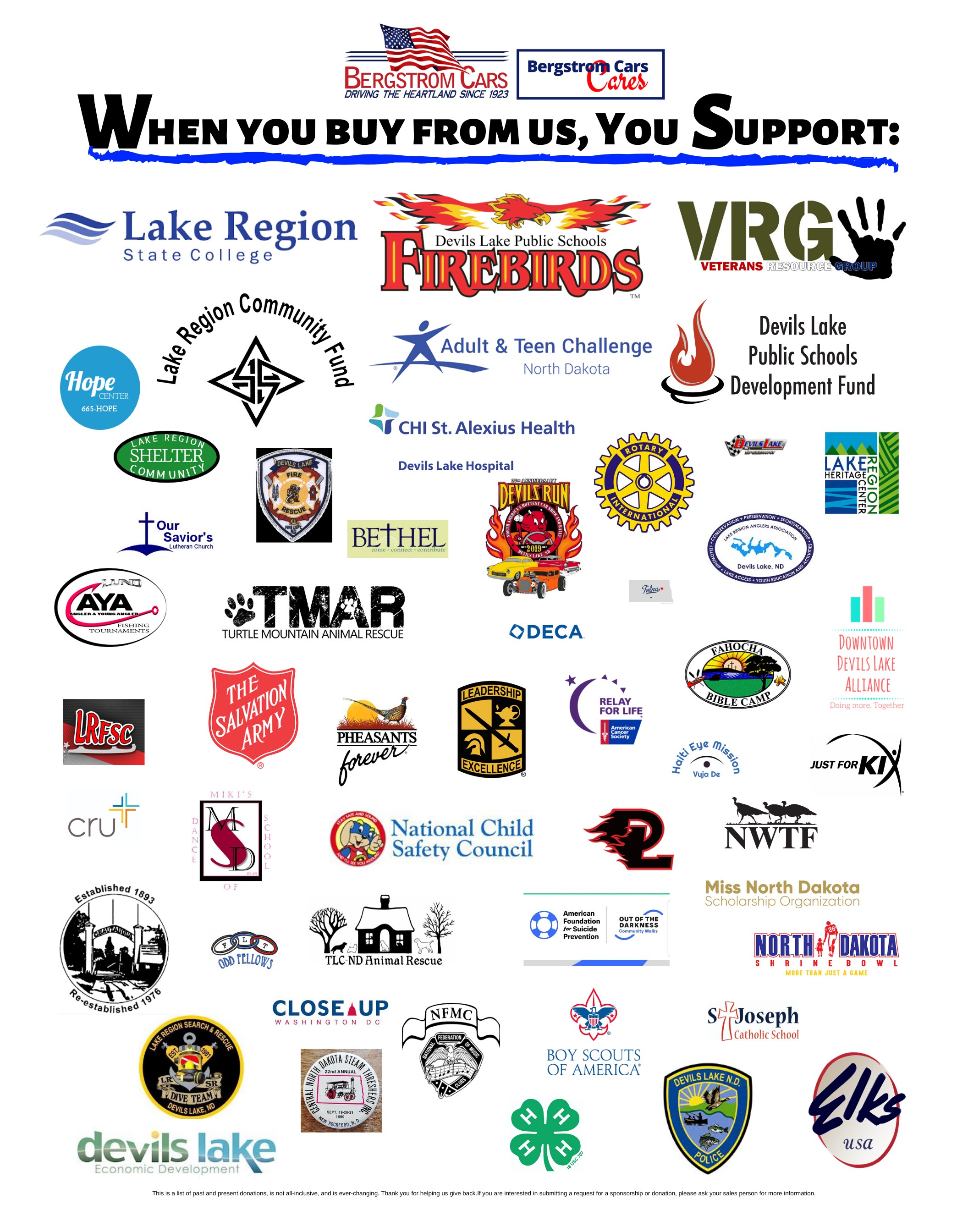 When their van broke down, the rescue operations of the Turtle Mountain Animal Rescue was put in jeopardy. 
Bergstrom Car's Vice President of Sales Jeremy Devier became aware of their need, and decided that this is exactly what our Bergstrom Cars Cares program is all about. Keith Benning is the Shelter Manager of Turtle Mountain Animal Rescue. Jeremy reached out to Keith with the idea that Bergstrom Cars would help provide the van, including assistance with the remaining funding that needed to be raised.
TMAR had previously raised close to $10,000 in private fundraising for the van. When Devier learned the details he decided that the Bergstrom Cars Cares program should assist TMAR in raising the rest of the funds. "For every vehicle our dealerships in Devils Lake sell, we set aside money to help out local organizations/benefits like this that are in need of financial support, and I knew this is one we needed to do something for." Devier said.
For two months, $25 from every vehicle purchase was set aside to help TMAR get the van they so desperately needed.
The dealerships also collected supplies needed by shelter, including bleach, paper towels, puppy pads, and animal food. Customers came from all over to help "fill the van" before it was delivered to Keith at Turtle Mountain Animal Rescue.
"The bottom line is this: We can't save dogs if we can't move dogs. We can't thank Bergstrom Cars enough for this van."
On Veterans Day, Bergstrom Cars was able to present the Veterans Resource Group with a much-needed, well-deserved resource: a new outreach vehicle. This vehicle replaces a vehicle that Bergstrom Cars gave to them two years ago.
As Ellen McKinnon looked at the last vehicle that Bergstrom Cars had donated to them she said "I think just about everything on the bottom of that poor car has been ripped off at one point or another." The car had given its all in service of the VRG, and it was definitely time for this upgrade!
Ellen McKinnon is a member of a group that works tirelessly to help the veterans in our community through the volunteer non-profit, Veterans Resource Group, and also through her regular job as a Case Manager for Supportive Services for Veteran Families, a program serviced through Dakota Prairie Community Action. Part of her volunteer work includes taking supplies to homeless veterans in our Region. "People are always amazed that we have this much homelessness in North Dakota, but homelessness, Veteran or not, is a growing issue in this Country. Thankfully, more people are becoming aware of it. Here in the Devils Lake area, the Veterans Resource Group and Supportive Services for Veteran Families rely on numerous groups and individuals who organize events/drives that keep our Pantry supplied, our Veterans warm and provide household items that our Veterans can use to establish a home.
The Veterans Resource Group was formed 4 years ago out of necessity. "We knew that statewide outreach was leaving one particular program and the Veterans that we were serving were not going to receive the services and supplies that they had previously been getting." Bergstrom Cars donated a Buick Rendezvous to the VRG 2 years ago to help fill the need for an outreach vehicle, but they had no idea what kind of impact the vehicle would have, how many miles it would cover. "We've put on over 200,000 miles, we've taken out over 20 tons of food, and I don't know exactly what the supply load has been, but it's been a lot! The car not only carries food and supplies but also gets Veterans, by referral, to and from medical appointments and social services. The car has also hauled furniture to help a Veteran move into Housing, lumber to build wheelchair ramps, donation drive items and countless items of winter gear and sleeping bags."
The vehicle is vital as it allows members of the Veterans Resource Group to go out over a weekend to deliver services and supplies to Veterans in desperate need. The VRG works closely with area Veteran groups to provide the services and supplies as needed. The hope is that through building trust, the Veterans can be connected as soon as possible to a Veteran Service Officer, who can make sure the Veteran is registered with the VA and any qualified claims are filed for. Then the Veteran can use Supportive Services for Veteran Families to acquire housing and other resources they might need to become self-sufficient. We are forever grateful for the work of Bergstrom Motors in providing us with an Outreach vehicle so we can serve Veterans, regardless of where they are in North Dakota.
It became clear to Bergstrom Cars this year that it was time to upgrade, and through the Bergstrom Cars Cares program, along with Toyota Dealer Match, the Bergstrom Cars dealerships- including Lake Chevrolet Buick GMC, Marketplace Ford Lincoln, and Lake Toyota- were able to present the Veterans Resource Group with an upgraded Toyota 4Runner.
"This vehicle is higher of the ground, has bigger tires, and more load capacity, and it will be vital in making sure our Veterans continue to have the services that they need."
Bergstrom Cars Cares is a program that has made an impact in the surrounding area, and it's only made possible by the customers who purchase vehicles at the 3 dealerships. Renard Bergstrom said that "$25 from every vehicle sale is set aside to help meet needs where we find them. Through this program, we've helped organizations large and small, families, and animals. It's a great way for us and our customers to pay it forward- we like to say that we help the customers' purchase go even further."
The vehicle was presented on Veterans Day at Lake Toyota in Devils Lake.
For more information on the Bergstrom Cars Cares program, visit BergstromCars.com, stop by any of our dealerships, or contact Stacey Dimmler at sdimmler@bergstromcars.com
For more information on the Veterans Resource group, please email questions to veteransresourcegroupnd@gmail.com .
To learn more about Supportive Services for Veteran Families, please email ellenmck@dpcaa.org, call the SSVF office at 662-6500 ext 324 or stop in to Dakota Prairie Community Action at 223 4TH ST NE in down town Devils Lake.